• Latest News

• Puppy Updates

• About Us

• Portuguese Water Dogs
» Males
» Females
» Offspring
» Pups
» About
» Rainbow Bridge

• Gallery

• Contact

• Links

• Buyer Beware

• Home




Teva puppies all lined up in their Sunday best.






How can you NOT love a face like that?





Roomba rider "Tailer", this Teva puppy is owned and loved by Jordyce and Peter. He obviously took to the puppy agility training well. LOL. Peter and Jordyce got a puppy from our very first Baywood litter, from momma Amy.







One of Baywood's recent puppies was recently featured in the Edmonton Journal & Sun newspapers along with being highlighted on CityTV's Breatfast Television at Pampered Puppy. Check out the video of Orlando HERE.

Also check out Orlando as a 10-week old puppy learning how to do laser pointer retrieval via this quicktime movie. Thanks to the amazing guidance from Caroline Hilliard at Steadfast Dogs!





Kopi may be sleeping here but she is your normal active curly haired girl.





Espresso, our little curly boy, is defientely a cup half full not half empty.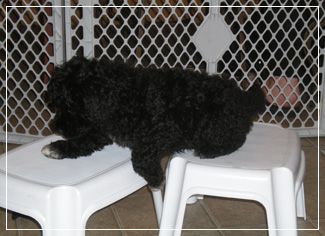 4 weeks old and already eating like grown-up doggies.





Introducing 3 week old Kenya (lime green), Kona (green pattern), MoJo, Kopi(red pattern), Decaf (smiles), Chai (black and white), Mario (blue), Cappuchino, and Espresso.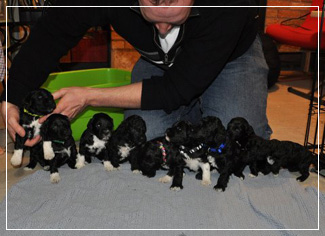 2 weeks old and now very active.




Eyes are opening and the pups now have their legs under them.





Lineup at one week of age.




Socialisation at one week.





Java & Max newborn pups. All nine are very healthy.